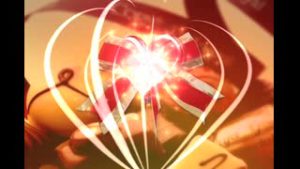 What does it mean to go beyond in love?
When we decide to become love's servants, our lives transform.
When we make the choice to use every experience as an opportunity to grow in our ability to give and receive love, we open the doorway to going beyond in love.
I recently reached a milestone birthday.  Most people would call me old.  I'm fine with that. Call me old if it makes you happy to call someone old. I'm amazed I reached this milestone birthday.  I've survived many life experiences that would take most people out.  And I'm still here.
Hi.  How're you doing?
When people reach a milestone birthday, they often are asked what they have done to get to be that old.  None of us can definitively answer that question, but we sure like to try. I've heard people credit their longevity to drinking whiskey, eating what they call their lucky foods on New Year's Day, and a daily meditation practice, among many other things.
Not that you asked, but if you're wondering how I made it this far in my life, I'll happily share.
I made a choice to only have people in my life who are willing to share an experience of love with me.
Sounds good, right?  Then please allow me to confuse you. What I call an experience of love may not be what anyone else calls an experience of love.  The challenge comes from everyone, myself included, having different definitions of what it is to have an experience of love.
What do I think it feels like to have an experience of love in which we all choose to go beyond?
We both focus on the love, not on how long the relationship lasts. I've walked away from nearly all of my friends during the past years. I've had life experiences that have changed me in ways they haven't experienced.  It's fine they are where they are.  I'm no better or worse than anyone.  I'm different than I used to be and quite possibly different from them.  The right people in my life love my differences as I love their differences.  Love is a unifier, not a divider.  For me, the most respectful thing I can do for everyone is love people where they are.  I continue to love everyone I've left.  I wish them all the best.  I love them enough to understand that my continuing presence in their lives may not be as beneficial to them as my loving them from afar.  I hope they feel the same way.  And, if they've walked away from me, I honor their choice and wish them all the best. 

We focus on making the most of each interaction we have as a way to grow beyond what we now know as love.  When we choose to love, we can also choose to evolve how we love.  Sometimes that means we practice conscious communication skills that grow the love instead of damaging the connection. Sometimes that means we give others space if they need time to themselves.  Sometimes that means we ask our loved ones what they want or need from us instead of assuming we know what they want or need.  I trust you get the idea.  Going beyond in love means doing things for ourselves and others because we have committed to living in love. 

We focus on learning about ourselves through our love for another.  Will I go beyond my comfortable selfishness to powerfully be there for a beloved in need?  Will I go beyond what I have previously done in my friendships and relationships, even if I am scared to do something new?  Will I take responsibility for and take the appropriate measures to right any actions that have caused harm to come to another?  Of, if you're someone who is used to loving others better than loving self, will you place your wants and needs in equal importance to the wants and needs of your beloveds?  Will you be your best advocate instead of depending on others to stand up for you?  Will you continually commit to your own well-being?
If you don't like my definition of what feels like going beyond love, that's great!  Find and live your own definition.  Allow your definition to change as you change.  That's what I do, too.  Allow yourself to grow beyond love more each year. 
My being here today, nearly six years after the stroke that still affects how I move through my life each day, is testimony to the healing power of my aligning with others who align themselves with sharing experiences of love with me. 
It's not about me or how they feel about me.  It's about how they feel about love.
Are you willing to go beyond in love? 
Copyright 2018 by Sheryl Hirsch-Kramer.  All rights for any further use reserved.  For permission to repost or reuse the above only in its entirety, fill out this form:  http://www.transformingthroughlove.com/contact/  The information presented at www.TransformingThroughLove.com and during coaching sessions is of a general nature and is not intended to be use as legal, medical or professional advice.  None of the information on this website is intended as a substitute for the counsel of a qualified doctor/physician, nurse, pharmacist, or other trusted health professional.  Always contact your own health care provider to assist you with your medical or health issues.  The information presented here is entertainment, information that is only meant to support you while you are being cared for by your own health care provider during your life's journey.  It is not intended to be used as stand alone legal, medical or professional advice.  We cannot and will not take any responsibility for the results or consequences of any attempt to use or adopt any of the information presented on this web site as legal, medical, or professional advice. Always consult your physician or trusted health professional to design a treatment plan for your own or for another's wellness.  All the information on this website is intended solely as loving support intended to accompany traditional medical care, not as stand-alone advice.  We appreciate your donations; please send a message via the contact form for donation instructions.If you like what you're reading here, please forward this website to a friend:  http://www.transformingthroughlove.com.