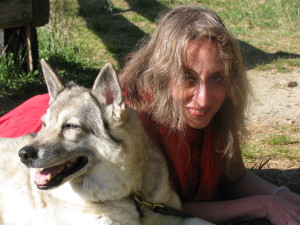 Are you a writer or blogger?  Are you a member of radio or television media?  Do you book inspiring programs or workshops for your organization, university, convention, spiritual assembly, support group house of worship, virtual events or other gatherings?

In one month, my senior dog cleared terminal cancer without traditional treatment in 2013.  My mother largely enjoyed quality of life until five days before her death at age 91 from end stage dementia in 2011.  And I'm continuing an amazing recovery after experiencing a disabling stroke in March 2012.
And I believe it was all possible, at least in part, because I consciously utilized the healing power of love.
Hi.  I'm Sheryl.  I'm here to inspire you and your audience by sharing ways to put the healing power of love to work in your own life and in the lives of your loved ones.
Will you help me inspire the world, one appearance at a time, by scheduling me to address your group?
I've guested on numerous radio shows since 2005 and have hosted Glow With The Flow Radio since 2008 on VoiceAmerica 7th Wave Network and Blog Talk Radio. I've also hosted several teleseminar series including Our Turning Points (2011), Mastering The Millennium (2012), and Glow With The Flow (2014).
During my previous career, I travelled throughout North America to present my lecture on seemingly catastrophic mistakes that led to creative breakthroughs for art groups of all ages.  I loved doing it!
I give good interview, and I give good lecture.  Wind me up and let's go!
"Love is not a doctrine.  Peace is not an international agreement.  Love and Peace are beings who live as possibilities in us."  Mary Caroline Richards